Sling Bag (FEATURES)
Crafted from genuine cowhide leather for durability and style.
Equipped with top-quality zippers and an adjustable strap for easy carrying.
Available in two colors: Brown with Black & Black with Tan.
The compact size of length 8.25″ x width 2.75″ x height 16.25″ makes it easy to carry your essentials.
Designed with your comfort in mind, with good construction and comfortable carrying options.
Offers ample space for your belongings, including your cell phone, earphones, goggles, books, keys, pens, cards, flashlights, gloves, wallets, chargers, power bank, and more.
Versatile enough to be used as a chest bag, crossbody backpack, shoulder backpack, Daypack, travel bag, or outdoor bag.
Contact us for wholesale and queries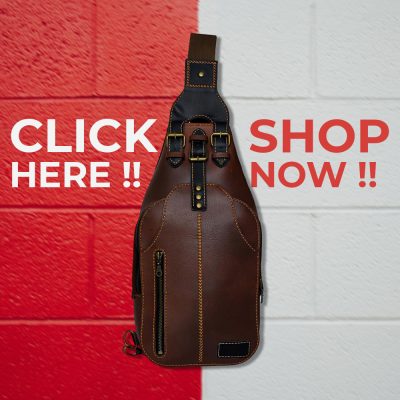 Description
Introducing our genuine cowhide leather sling bag, expertly crafted for style and functionality. With a front upper pocket secured by a leather strap closure and two zippered pockets, you can keep your essentials like wallet, keys, documents, and power bank organized and easily accessible. The adjustable strap allows for comfortable wear on both shoulders, while the soft and durable interior lining protects your belongings. Easy to clean and with a timeless design, this sling bag is a versatile addition to any wardrobe, perfect for any occasion. Get our leather sling bag today and invest in quality and style.