Leather bags have been a timeless fashion accessory for centuries. They have always been associated with luxury and sophistication, and rightfully so. They are essential accessories for any man or woman because they are adaptable, strong, and fashionable. So, explore the reasons why leather bags are a must-have for everyone, the types of leather bags available in the market, and how to choose the right one for you.
Why Everyone Should Own a Leather Bag
Leather bags are more than just an accessory. They are statement pieces that can lend sophistication and elegance to any outfit. Whether you're a man or a woman, a leather bag is a must-have in your wardrobe. Here are some reasons why:
The Benefits of Leather Bags
Durability: Leather bags are known for their durability and longevity. They can withstand the test of time and are resistant to wear and tear. A high-quality leather bag can last for many years, making it a long-term purchase.
Versatility: Leather bags are adaptable and appropriate for every occasion because they are available in a variety of styles and designs. Whether you're going to work, a formal event, or a casual outing, there's a leather bag that can match your outfit and style.
Style: Leather bags have a timeless appeal that never goes out of fashion. They elevate any ensemble by adding a dash of refinement and style, making them chic accessories that can improve your entire appearance.
Comfort: Leather bags are comfortable to carry around, especially if they come with adjustable straps or handles. They are perfect for daily use because they are portable and light.
Sustainability: They are environmentally friendly and sustainable, as they are made from natural materials and can be recycled or upcycled.
Types of Leather Bags
Leather bags come in various types, each with its unique style, design, and purpose. Some of the most modern styles of leather bags on the market are listed below:
Backpacks
Leather backpacks are a popular choice for those who need a durable and stylish bag for carrying their everyday essentials. They have two straps that can be adjusted to fit comfortably on the back.
Leather backpacks offer ample space to hold books, laptops, clothing, and other essentials, making them perfect for school, work, or travel. Additionally, the durability of leather ensures that the backpack can withstand daily wear and tear, making it a long-lasting investment.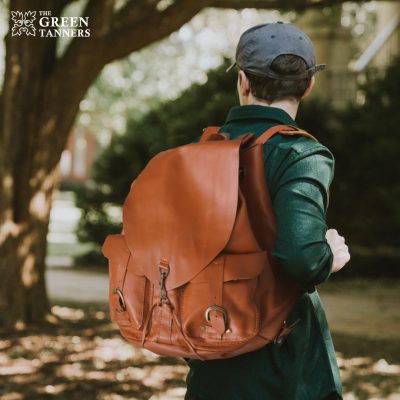 Crossbody Bags
Leather Crossbody bags are a popular choice for those who prefer hands-free convenience. They feature a long strap that can be adjusted to the desired length and worn across the body or over the shoulder. They come in various sizes and designs, from small minimalist options to larger, more elaborate ones with multiple pockets and compartments.
Tote Bags
Leather Tote bags are intended to be spacious and functional, with enough room to hold your laptop, books, and other items. They're made of high-quality leather, which adds a sophisticated touch to your look. They are useful accessories that can be worn over the shoulder or held in the hand, so they can be used at work, on vacation, or for fun.
Satchels
Satchels are stylish and practical leather bags that offer a convenient and secure way to carry your everyday essentials. They are designed with a single strap that allows you to wear the bag across your body, keeping your hands free from other tasks.
They are made from high-quality leather, which ensures durability and a stylish appearance that never goes out of fashion. Satchels are a must-have for anyone who is always on the go. They are both useful and stylish.
Duffel Bags
Leather Duffel bags are a type of leather bag that is known for their cylindrical shape and spacious design, making them ideal for carrying a variety of items such as sports equipment, clothes, and personal belongings. They are made of good leather and usually have handles and a shoulder strap to make them easy to carry.
Travelers and athletes like these bags because they are durable and easy to use. Whether you're heading to the gym or going on a weekend trip, a leather duffel bag is a perfect accessory for any occasion.
Briefcases
Briefcases are formal leather bags that are typically used by professionals to carry documents, laptops, and other work-related items. They are available in a variety of sizes and designs, ranging from classic to contemporary, and are suitable for any business setting.
How to Choose the Right Leather Bag
Here are some factors to consider when choosing a leather bag:
Purpose and Occasion
Consider the purpose and occasion for which you will use the bag. If you need a bag for work, a briefcase or a messenger bag might be suitable. For travel or casual outings, a tote bag or a backpack might be ideal.
Quality and Durability
Look for a bag made of durable, high-quality leather that can take wear and tear. Check the stitching, zippers, and hardware to ensure they are sturdy and well-made.
Style and Design
Choose a style and design that matches your personality and tastes. Leather bags come in various colors, shapes, and sizes, so choose one that matches your style.
Comfort and Convenience
Look for a bag that is easy to use and nice to carry around. Check if it comes with adjustable straps or handles and if it has enough compartments for your items.
Conclusion
They are versatile, strong, stylish, and last a long time, which makes them a great investment for long-term use. There are so many kinds of leather bags on the market that it's important to choose one that fits your desires, style, and tastes. Consider the factors mentioned above when choosing a leather bag, and you're sure to find the perfect one for you.
FAQs
What makes leather bags better than other types of bags?
Leather bags are better than other types of bags because they are durable, versatile, stylish, and sustainable. They can stand up to wear and tear and last for years, which makes them a good long-term purchase.
How do I take care of my leather bag?
To take care of your leather bag, don't let it get wet or into direct sunlight. Use a leather conditioner to keep it soft and supple, and store it in a cool, dry place when not in use.
Can leather bags be recycled?
Yes, leather bags can be recycled or upcycled. They are constructed from natural materials, are environmentally friendly, and are sustainable.
How do I choose the right size of leather bag?
Choose a leather bag size that matches your purpose and the items you need to carry. Consider the occasion and your style preferences when choosing the size.
Are leather bags expensive?
Based on the leather's quality and design, leather bags can be expensive. They are a good choice because they are durable and long-lasting and can last for a long time.