Magazine Bag (FEATURES)
Our Magazine Bag is made from 100% genuine cowhide leather.
Available in brown or black.
Size: (Length: 14″) (Width: 6.5″) (Height: 10″) Approximate.
Can carry 150-175 loose cartridges.
Scalloped opening and hinged lid for easy access and loading.
Heavy-duty top handle and strong adjustable shoulder strap.
Secured by 2 leather straps with thick brass buckles.
Lightweight and easy to carry.
All hardware is made from brass.
Strong stitching all around.
Contact us for wholesale and queries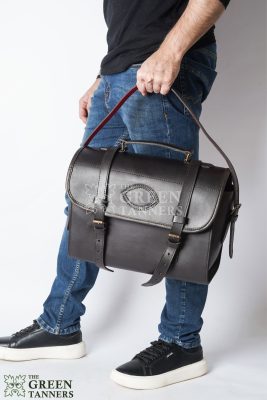 Description
Introducing our Leather Magazine Bag, meticulously designed to be your trusted companion in the field, ensuring your hunting or shooting equipment remains organized and secure. Crafted from top-quality leather, these bags not only exude durability but also infuse a touch of opulence into your gear.
These bags feature a thoughtfully designed scalloped opening, granting you effortless access to your equipment. Carrying them is a breeze, thanks to the adjustable shoulder strap that combines comfort and convenience. The hinged lid adds an extra layer of accessibility, making your gear readily available when you need it most.
Ample storage space ensures that your cartridges are not only kept safe but also impeccably organized. The bag's interior compartments are expertly engineered to ward off rust and corrosion, preserving the pristine condition of your precious ammunition.
We are manufacturer of all items displayed on the website.