Rifle Case (FEATURES)
Our Rifle Case is crafted with top-quality craftsmanship, making it a reliable and long-lasting option for gun owners.
It is available in brown colour that gives it a classic look.
The outer length of the case is 54.5 inches, while the internal length is 52.5 inches, providing ample space for your shotgun.
A full-length YKK zipper is used in conjunction with a thick Fleece Wool lining to keep your shotgun safe and protected.
All the hardware used in the construction of the case is made of brass, ensuring durability and longevity.
The case features a heavy-duty carrying handle and an adjustable shoulder strap, making it easy to transport and comfortable to carry.
A reinforced muzzle end and strong stitching all around the case add an extra layer of protection and durability.
The case is also easy to clean, ensuring a hassle-free experience and preserving its appearance and quality for years to come.
Contact us for wholesale and queries.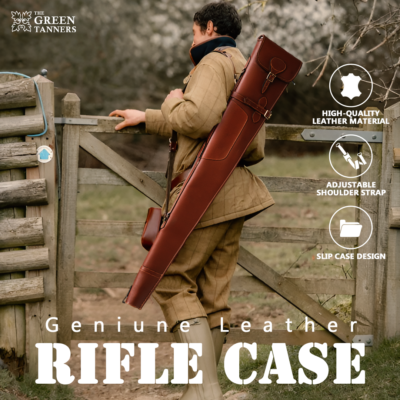 Description
Elevate your firearm protection with our high-quality Leather Rifle Case. This masterpiece is meticulously handcrafted by skilled artisans using the finest leather, combining style with durability. The full-length YKK zipper, adorned with sleek brass hardware, not only adds a touch of elegance but also guarantees secure closure.
Inside, your shotgun is cocooned in a thick Fleece Wool lining, offering unparalleled safety during transport. The strong stitching, expertly applied to every inch of the case, ensures that it will endure years of use without compromise.
When you choose our Leather Rifle Case, you're not just investing in a gun accessory; you're making a statement about your commitment to quality and craftsmanship. Protect your firearm with the best while making a stylish impression.
We are manufacturer of all items displayed on the website.