Shotgun Shell Holder (FEATURES)
Our Shotgun Shell Holder is crafted by skilled craftsmen using high-quality Canvas.
Holds 20 cartridges securely around your waist.
Adjustable waist strap for a customized fit.
Rust-proof hardware ensures durability.
Strong stitching for long-lasting use.
Quick and easy cartridge access during hunting.
Perfect gift for hunting enthusiasts.
Contact us for wholesale and queries.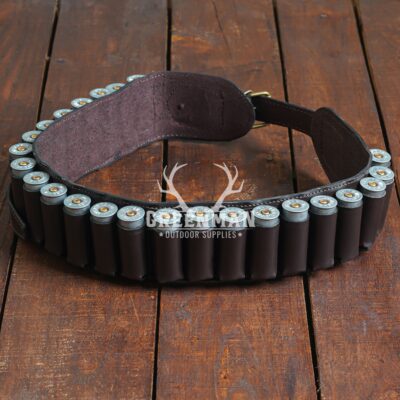 Description
Our Premium Shotgun Shell Holder is more than just a functional accessory; it's a testament to quality and convenience. Meticulously crafted from the finest materials available, this shell holder is designed to endure the rigors of hunting and shooting. With a generous capacity for 25 cartridges, it ensures you're always well-armed during your outdoor excursions or range sessions.
The adjustable waist strap is a thoughtful addition, providing a comfortable and secure fit for individuals of all body types. This versatility allows you to focus on your shooting without the distraction of discomfort. Moreover, the rust-proof hardware used in its construction guarantees long-lasting durability, even in the harshest outdoor environments.
Elevate your shooting experience with our Premium leather cartridge belt. It's a reliable and practical accessory that every marksman should have in their arsenal. Whether you're pursuing game or honing your skills at the range, you can count on this holder to keep your ammunition close and ready, ensuring a seamless and enjoyable shooting experience.
We are manufacturer of all items displayed on the website.